Queen Jill's Oregon Coast Trip
Sept. 27th & 28th, 2002
Queen Jill and Rod, the love of her life (and her webmaster), took a two-day whirl-wind trip along the Oregon coast. We started off in Seaside to visit Queen Konnie Welch of the Seaside Beach Bags chapter. We visited her store, Knotty But Nice, in the heart of town. It's a shop filled with everything purple, some red hats, and much more. After a wonderful half-hour "get-acquainted" visit over coffee, we said our goodbyes and headed south.
(The images below have "hover captions". Simply move your cursor over the image, then let it "hover" for a second or two to view the caption. Click on the image to enlarge it.)





Tillamook, Oregon
I wanted to visit tea rooms that I had heard about but hadn't visited before because of the distance. Our next destination was Tillamook, where we stopped for tea at the La Tea Da Tea Room. The proprietors, Terry and Sue, gave us special attention and made us feel very welcome. From the gift shop we entered through a beautiful arch into the lovely tea room, where Rod experienced his first tea. He's now able to visualize it when I talk about savories, scones, and lemon curd.





The next day, 22 members of the Vancouver Belles went to La Tea Da for high tea. Each gal was given her own three-tiered silver tray filled to the brim with two giant scones-along with lemon curd, clotted cream and jam, six assorted sandwiches, and an equal amount of desserts, plus a mango sorbet. (Photo below courtesy of Pat Palmer of the Vancouver Belles.)

Newport, Oregon
Our next destination for tea was Newport. We stopped at Tea & Tomes, but it was late in the day, so they were no longer serving and were only open for another 30 minutes. Although the kitchen was closed, the proprietor was kind enough to give me a scone with cream and jam "to go" so I could at least have a taste after the long drive. I was able to get some photos of the elegant tea room and look forward to coming back some day.
We drove through Florence, but it was too late to visit the tea rooms in that city. I was able to look through the window of Mon Ami, which was not only a tea room but a deli and antique shop. It looked lovely, and we'll be sure to stop there on the next trip.
We kept on driving, finally stopping in Bandon where we stayed the night. I had learned the day before that the new tea room in Bandon, The Tea Cosy, wouldn't be open until some time in October. A good reason to come back.
When we left the next morning, we drove through the darling town of Bandon and stopped at their famous Cheddar Cheese Store. There were lots of cheeses to sample, and my favorite turned out to be horseradish cheddar cheese. It was mild and delicious.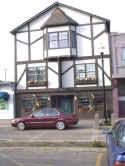 Eugene, Oregon
Bandon had been as far south as we had planned to go on this trip. We took a scenic drive east to I-5 and headed back to Portland. On the way, we stopped in Eugene at the Savoure Tea Room, and settled back into a comfy couch, relaxed, and enjoyed scones and savories. After a pleasant visit with a couple at the next table, we took off for home. It's hard to believe how much we did in just thirty-four hours.